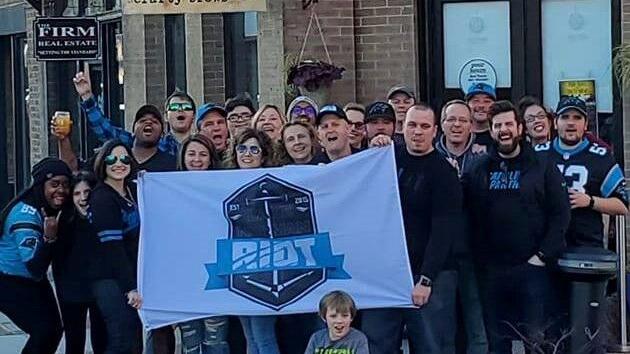 And despite the chapter picking Mooresville as its meeting location, Harmon and the rest of his leadership group is looking to pull in Panthers fans from all over the Lake Norman area.
"There's so many people from different areas: We're from Denver, they're from Cornelius, he's from Mooresville," Doug Smith said, pointing to the Riot members in the room. "We're all doing one thing we like to do – support the Panthers."
"I think it highlights the community that supports the whole Lake Norman area," Teresa Smith added.
Along with supporting the Panthers, all chapters of the Roaring Riot strive to serve the communities they call home. LKN Riot is no different. For their first meetup of the season, they will be asking watch party attendees to bring a "Blessing Bag" to benefit FeedNC.
"That's always been part of the Roaring Riot's mission," Harmon said. "Everybody knows we're here to watch football, but let's do more to have a positive impact on the community."
The Blessing Bags are donated to the Mooresville Soup Kitchen by way of FeedNC and contain a myriad of living essentials such as toothbrush, toothpaste, soap, shampoo and other toiletries along with a note of encouragement.
"We're taking what we do every week and helping out people that need help," Smith said. "We have a purpose."