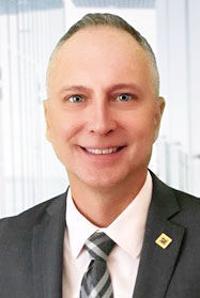 Boo's Books
The Shenandoah County Chamber of Commerce will hold a ribbon-cutting ceremony for Boo's Books, a children's book store owned by Kara and John Fogle, at 11 a.m. Friday inside the main entrance at Fort Valley Nursery, 1175 Hisey Ave., Woodstock.
Anderson & Vreeland
Woodstock native Dave Miller has been appointed vice president of operations at Anderson & Vreeland Inc. in Alexandria, a manufacturer and distributor of flexographic printing technology and supplies.
Formerly director of digital business solutions for Anderson & Vreeland Inc. and managing director for Nova Polymers (a subsidiary that focuses on accessible signage), Miller, a Central High School graduate, has held various leadership roles at the company since 2005. His new expanded role will focus on operational initiatives such as procurement, distribution, logistics, facilities management and information services.
F&M Bank
F&M Bank has welcomed two new team members, Kevin Nixon and Katherine Preston, and announced senior leadership promotions for Paul Eberly and Bobby Williams.
• Nixon has been appointed vice president and commercial relationship manager to the Harrisonburg-Rockingham County commercial team. He brings over 13 years of commercial lending experience, mostly serving as a business development officer at First Bank. He earned a master's degree from Medaille College.
• Preston has been appointed senior vice president and Valley market executive to the senior leadership team. She brings over 20 years of banking experience that includes retail, small business and commercial lending, most recently as vice president and business services officer at BB&T. She is a graduate of the Virginia Bankers School of Bank Management, RMA-ECU Commercial Lending School and the BB&T Banking School at Wake Forest University.
• Eberly, senior vice president and agricultural programs leader, will assume the position of executive vice president and chief credit officer following the retirement of Ed Strunk. He will lead the credit administration, retail loan administration and loan operations departments.
• Williams, vice president and commercial relationship manager, will assume the position of agricultural and rural programs leader as Paul Eberly transitions to executive leadership. He joined F&M Bank in April.
Casco Plumbing
Casco Plumbing and Well Pump Services in Winchester has expanded its rescue services by providing supplies to three area schools. The Casco "ambulances" delivered items to Bass-Hoover Elementary School in Stephens City, Red Bud Elementary School and Apple Pie Ridge Elementary School in Winchester.
The team provided basic items such as glue sticks, composition books and dry erase markers that will help the teachers and students at the schools.
The company's service trucks, which are modified ambulances, made special trips to the schools on the first day of classes. Casco has been serving the Winchester area since 1993. Information: visit www.cascoplumbingva.com.
Submissions
Send in your events at www.nvdaily.com/site/forms