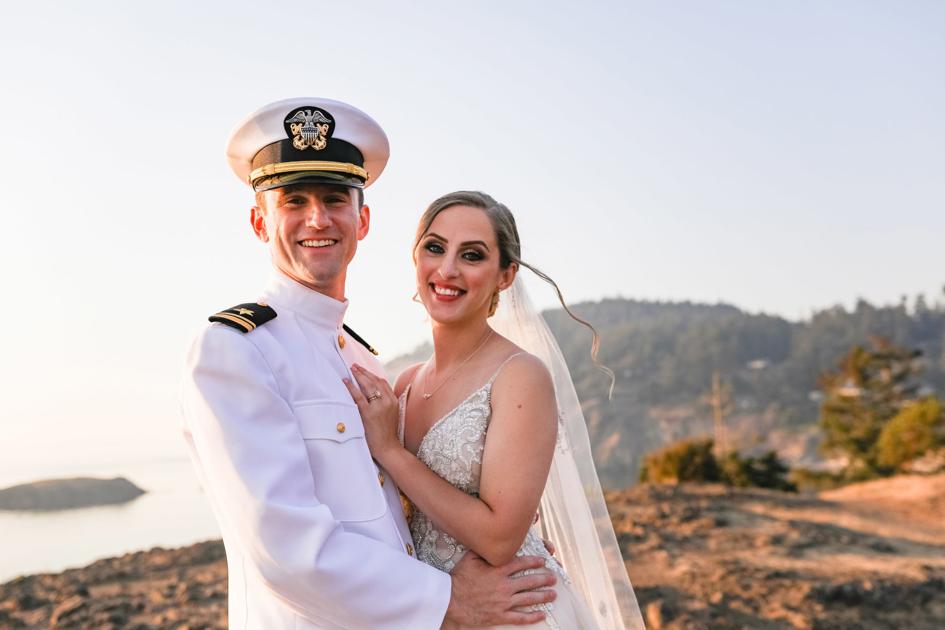 The COVID-19 pandemic has forced couples and bridal businesses to rethink weddings.
With large weddings off the table, five women-led wedding companies based in Skagit County have come together to offer an alternative — small and laid-back ceremonies.
The group, called Wanderlust Elopements, includes bridal stylists Laura Williams and Leslee Hughes of Astraea Bridal; master tailor Kristin Groberg of The Town Seamstress; licensed officiant Becca Walters of Walters PNW Weddings; photographer Emma Fox of Sig Photography; and florist Olivia Yates O'Donnell of Floravore NW.
All five businesses lost work after COVID-19 forced couples to cancel or postpone weddings.
Williams, co-owner of Astraea Bridal, a consignment bridal shop in downtown Mount Vernon, said she had "a day of complete despair" this spring when she realized the wedding industry would not quickly recover, with large gatherings unlikely to resume in the near future.
"Everything has completely shifted and it's completely impacted everyone," she said.
Williams reached out to other bridal business owners to brainstorm what they could do. The solution was Wanderlust Elopements — a way to bring business to those in the wedding industry while helping couples forced to change their wedding plans.
She said the idea is to offer a scaled-back version of their services at a fraction of the cost for an average wedding, while providing couples with a memorable experience.
The group offers a $1,500 all-in-one package that includes floral arrangements, a discounted price on wedding gown and alterations, two hours of photography, and travel for photographer and officiant within 30 miles of Mount Vernon. Couples can add upgrades for an additional fee.
"We're trying to make (an elopement) not look like the inside of a courtroom, and make it intimate and special," Williams said. "Maybe you won't have a reception with friends, but you will have an amazing time with your life partner frolicking through the woods and getting amazing photography."
Gov. Jay Inslee has permitted indoor wedding ceremonies of up to 30 people or 20% capacity, whichever is less, and outdoor ceremonies of up to 30, according to guidance released in July. Receptions are prohibited.
Wanderlust Elopements is sticking to even smaller ceremonies. Williams said their ideal ceremony is no more than six — the two getting married, and up to four witnesses, such as parents or siblings.
The group has scouted outdoor locations that allow for social distancing.
Fox, of Sig Photography, said there's been a big shift in how people think about weddings.
"It's not the big grand wedding, but it's just as special," she said. "I had to postpone my own wedding this year. It shouldn't have to be this hard to be married, be this much work, or this much waste."
The group gave away its first elopement to thank frontline workers.
For the giveaway, six other businesses stepped forward to contribute items including a cake, hair and makeup services, a skin care kit, a watercolor of the bridal attire, jewelry and a dinner for seven, Fox wrote in an email.
Ellen Gamson, executive director of the Mount Vernon Downtown Association, said the group shows how businesses can be resourceful and creative.
"In a time when you can't imagine a whole lot of weddings with 250 guests, there are still couples wanting to get married," she said.
Courtney King and Matthew Tassinari, the couple who won the giveaway, were married Tuesday at Rosario Beach near Deception Pass.
The two recently moved to Skagit County from Mississippi where King, a registered nurse, had worked in a hospital's emergency department. Tassinari is in the Navy. Both had COVID-19.
King said the two got engaged in July and that their wedding plans were up in the air.
She said winning the elopement package took away the stress of planning a wedding. Instead of having to find wedding vendors, the work was already done for them.
"I don't want anyone stressed right now, especially with what we've been dealing with for the past couple months," King said. "I always wanted a smaller wedding to begin with, so this was prefect for me. And getting married close to a beach."